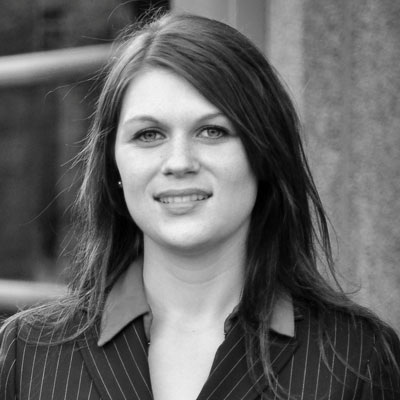 Sarah Liesen
Partner
(816) 301-4056
sliesen@elmlawkc.com
Sarah Liesen is a founding partner of Edelman, Liesen & Myers L.L.P.  Ms. Liesen is passionate about helping individuals navigate the complex immigration system and advocating for their rights.  She defends individuals who are facing deportation and has successfully completed applications for many clients petitioning for immigration status for their loved ones.  Ms. Liesen also assists those who are taking the step towards citizenship with filing the necessary documents and by accompanying them to their citizenship interviews.  She also regularly assists international students with student visa status issues as well as any underlying criminal convictions that may cause student visa problems.
Additionally, Ms. Liesen also handles municipal court matters in Kansas City and the surrounding counties for many members of the community.  She has extensive experience defending the rights of her clients in these matters.  She is focused on providing versatile and competent representation in both the areas of criminal and immigration law.
While completing her Juris Doctor at the University of Missouri-Kansas City School of Law, Ms. Liesen worked as a research assistant for law professor David Achtenberg and was a board member of the UMKC Law Review.  She also published an article for the UMKC Law Journal in the area of immigration.  Ms. Liesen focuses her area of practice on family based immigration and criminal law at the firm.
Currently, Ms. Liesen is a member of the Association of Women Lawyers, the Kansas City Metropolitan Bar Society and volunteers for numerous yearly events including as Judge for the UMKC Regional Mock Trial Competition, presenter at the yearly Olathe Ethics Conference, volunteer for the Annual Step Up for Women Docket, and volunteer for the Annual Missouri Innocence Project Fundraiser Dinner.
Bar Admissions:
Missouri 2012
Education:
B.A. Political Science, Columbia College-2009
Juris Doctor, University of Missouri-Kansas City School of Law, 2012
Community Involvement:
Member of the Kansas City Young Professionals Society
Member of Association for Women Lawyers of Greater Kansas City
Member of the Kansas City Metropolitan Bar Society
Judge for the 2013 and 2014 UMKC Regional Mock Trial Competition
Presenter at the 2013 and 2014 Olathe Ethics Convention
Volunteer for the 2012 Step Up for Women Docket
Volunteer for the 2013 & 2014 Missouri Innocence Project Fundraiser Dinner
Publication:
Refuge for the Criminal? Exploring the Categorization of Former Gang Members as a Particular Social Group, 79 UMKC L. Rev. 991 (2011)
Awards and Recognition: