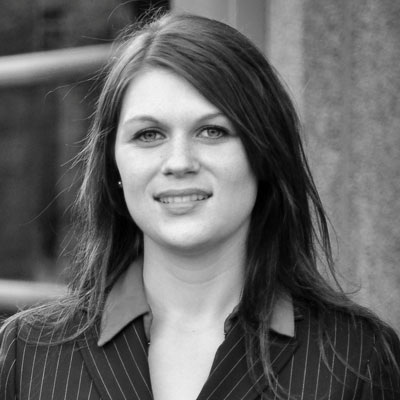 Sarah Liesen
Partner
(816) 301-4056
sliesen@elmlawkc.com
Sarah Liesen is a founding partner of Edelman, Liesen & Myers L.L.P.  Ms. Liesen is passionate about helping individuals protect their rights in the workplace.
While completing her Juris Doctor at the University of Missouri-Kansas City School of Law, Ms. Liesen worked as a research assistant for law professor David Achtenberg and was a board member of the UMKC Law Review.  She also published an article for the UMKC Law Journal.  Ms. Liesen focuses her practice on employment issues.
Currently, Ms. Liesen is a member of the Association of Women Lawyers, the Kansas City Metropolitan Bar Society, the National Employment Lawyers Association (NELA). Ms. Liesen is currently a board member for the NELA-KC chapter.
Bar Admissions:
Missouri 2012
Education:
B.A. Political Science, Columbia College-2009
Juris Doctor, University of Missouri-Kansas City School of Law, 2012
Community Involvement:
Member of the National Employment Lawyer's Association (NELA)
Board Member for the NELA-KC Chapter
Member of Association for Women Lawyers of Greater Kansas City
Member of the Kansas City Metropolitan Bar Society
Judge for the 2013 and 2014 UMKC Regional Mock Trial Competition
Presenter at the 2013 and 2014 Olathe Ethics Convention
Volunteer for the 2012 Step Up for Women Docket
Publication:
Refuge for the Criminal? Exploring the Categorization of Former Gang Members as a Particular Social Group, 79 UMKC L. Rev. 991 (2011)
Awards and Recognition:
Super Lawyers-Rising Stars - 2015-2021